HOME | UPDATES | JOIN | MEMBERS | LINKS
We have been updating SINCE 2003, so we have moved many of the older sets to www.wetlookstore.com.
There is always plenty of material available in the members-area, but stuff gets removed, so join if you don't want to miss anything!
Currently there are 38 movies online! 39 have been recently removed and will appear at www.wetlookstore.com
Soon we will clean up a even more movies, so join now if you want to get the ones still available

Did you know we also have a sister-site with even more great fully clothed wetlook? Check out premium.wetclothinggirls.com!

We saw her walking in the street and thought she was uber-cute! So we asked her and she happily said yes!
Meet Cisca, a girl so pretty, enjoying her very first wetlook!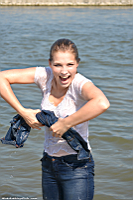 A movie of Sarana in a business outfit on pumps in a lake.

Marta in legging and long shirt that gets c-thru when soaked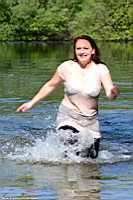 Shelsey in two sets in jeans and shirt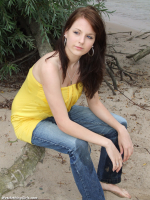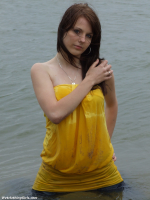 Movie of slim girl Celine being very elastic and wet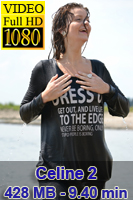 Martha is such a funny girl, her very first wetlook-experience in a Nickelson-like bomberjacket!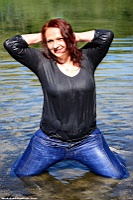 Movie of Danique filmed by her friend, she poses and plays with a rope in jeans

Melanie in jeans and an american shirt under a cotton jacket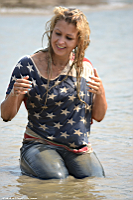 Very nice movie of Eileen, being very cute in a waterfall!
She also takes a little swim in her jacket over a white blouse and very nice pants.

Carlein in black suit with heels and a great blouse, very nice!

Movie of Celine in denim jeans outfit jumping and playing. She takes off her jacket at the end.



Shelsey in jeans and white blouse on a spring day at the beach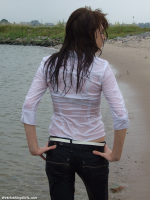 Schoolgirl Angela in boots, pantyhose, skirt and jacket over a white blouse, very, very wet!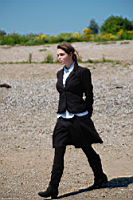 Movie of Danique with her very long hair in shirt and jeans getting soaked

Cute Eileen in a jeans outfit is wearing two different kind of socks under her nice boots :-)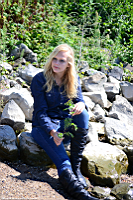 Movie of Paula in very wide flared pants and a white blouse under a vest.

Krista in a black suit with blouse underneath gets soaking wet!

Corlinda in black skirt and pumps under a red jacket that is hiding a white blouse!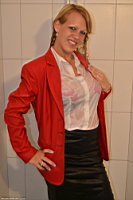 Paula takes a shower in jacket and a wonderful black outfit!

We got some nice compliments about the long hair so we have another beauty:
Celine in pants and jacket with a blouse underneath and pumps soaks her long hair!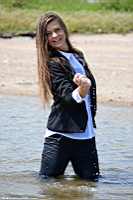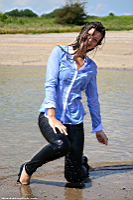 The beautiful Danique had very long hair and a tight jeans which she gets soaking wet.
She takes off her leather boots at the end.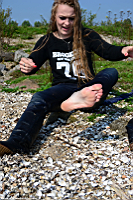 Melanie in a wool pullover and a jeans. She plays very well with the soaked wool!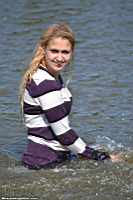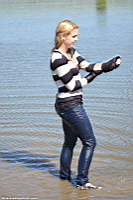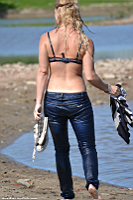 Movie of gorgeous Karianne wearing a brown business suit with white blouse, she will take of the jacket near the end to reveal!

All in the family: Martyna in denim shorts and shirt under a wool thingy

Yes, Gita is back in an office outfit! Great white blouse over a black shirt, and a black jacket and skirt with nylons...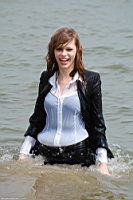 This weeks update:
2 movieclips of lovely Danique!
Actually one was too short after some technical problems, so we decided to post the 'before-the-scene',
where you can see her getting dressed, talking and posing. That particular clip is not wet, so if you are not into knowing the girl behind the wetlook,
don't download 1a. Clip 2 is of Danique in white blouse under a black top, with very long blond hair getting wet

Cute Eileen in black pantyhose and a greatly clinging blue dress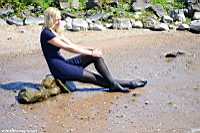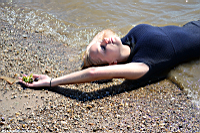 Playful in black pants and white blouse under a vest, cute braces on Angela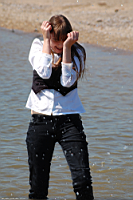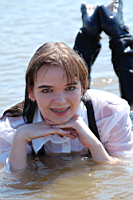 Celine is flexy and sexy in her soaking wet black legging and pullover, great long hair as well!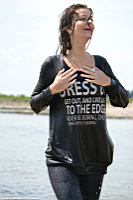 Movie of Paula, taking a shower in a gray suit, washing her long blond hair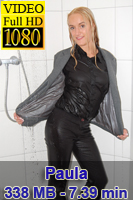 Melanie in little skirt and gray jacket over a white blouse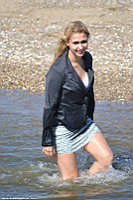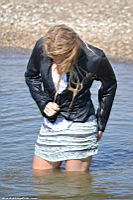 Beautiful Eileen in regular jeans and a black shirt, with great leather boots!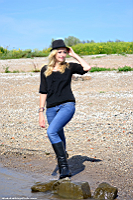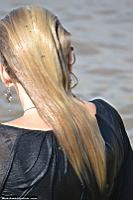 Danique has smashing long hair, white All stars, tight black pants and a wool vest over a sheer white top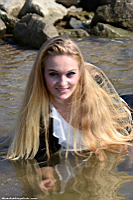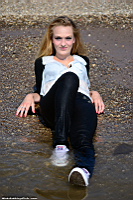 Movie of Carlein in a black suit with jacket over blue blouse and tight black pantalon.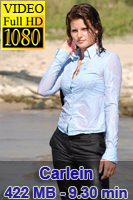 Melanie in regular jeans and a blue shirt under a salmon vest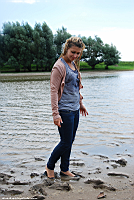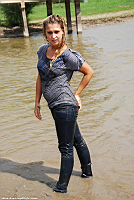 Mascha in stockings under a skirt and jacket poses very cute but revealing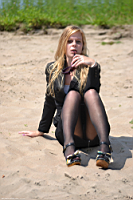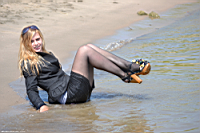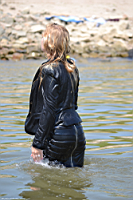 Movie of Rebecca in black office suit with red shirt underneath, she is very talkative and funny to watch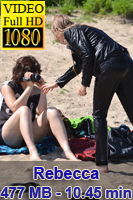 Martyna & Karolina in a pictureset and a short extra movie in another outfit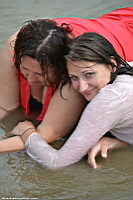 New girl Danique is yet another very enthusiastic and funny girl,
with smashing long hair and a good sense of humor, wearing Converse All Stars and a Tommy Hilfiger jeans

Movie of Melanie in a striped pullover on top of jeans, very good clinging.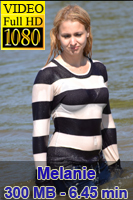 Simone is a blond bombshell in black pants and gilet over a white blouse, lovely!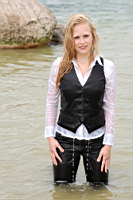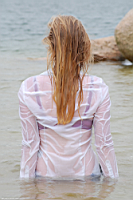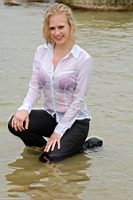 Laura & Nathalie are two friends in black leggings and colorful blouses.
Laura introduces Nathalie to wetlook and they have fun!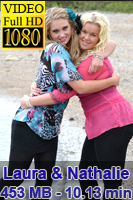 Lovely new girl Celine in a smashing jeans outfit has fun in the sun!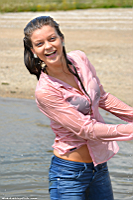 Every girl needs a LBD... a little black dress to go with anything.
Like in this case Aura, wearing it under a black jacket and great nylons!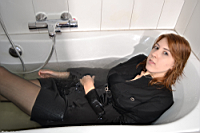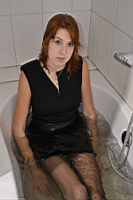 Movie of Linda in a great jeans outfit taking a shower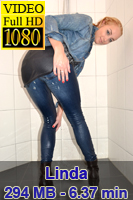 Pleuni uses her pumps to wet her business outfit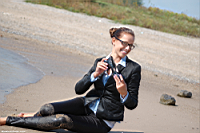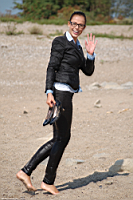 Martyna and her cousin Karolina frolic in skirt and shorts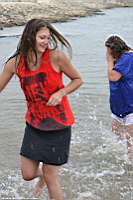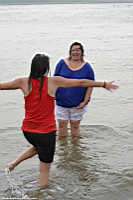 Movie of Melanie in skirt and a jacket on a windy day at the beach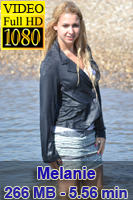 Laura brought her friend Nathalie in pink, she soon got very wet by playing :-)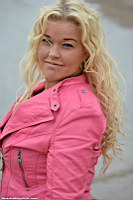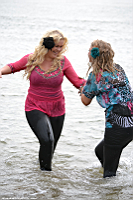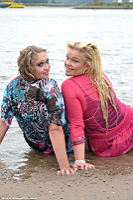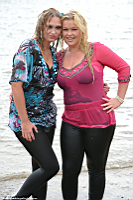 Movie of Angela in black skirt and jacket over a white blouse on a sunny day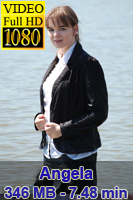 Melanie is such a cute girl in her catsuit. It's very elastic and baggy at the same time.
The colour changes fantastically when wet and the fabric is just splendid!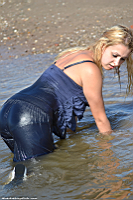 A very elegant set of Karianne in short boots, beige suit over a white blouse and long blond hair that gets soaking wet!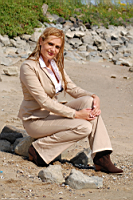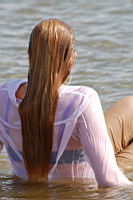 Sarana in heels, skirts, jacket and red shirt over a white top. Very elegant, very wet.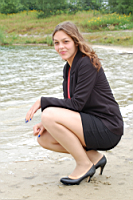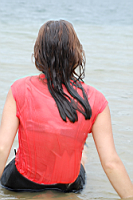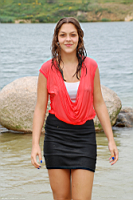 Movie of Nicky in jeans with blouse, very elegant girl!

She's pretty, she's happy and she's wet! So Patricia is perfect! :-)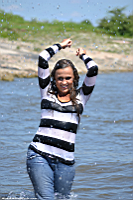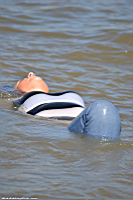 Pretty Rebecca in black pants, jacket and red shirt that turns dark red, in a very happy set!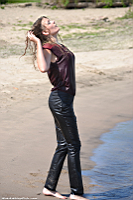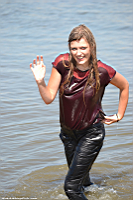 Movie of Krista in a black suit with heels, she opens her jacket halfway

Paula in short boots, jeans and a pullover with collar which she gets so nicely wet....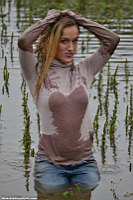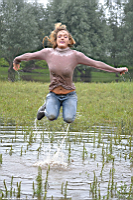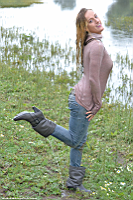 Melanie in vest over a blouse over a shirt, and a blue jeans. She likes to get all wet and it shows :-)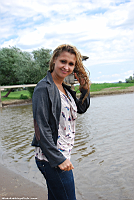 Movie of Laura in gray pants with great change of color and a shirt over a black longsleeve.

Perfect Nicky on pumps in a very tight light jeans and a blouse, she looks so cool when wet!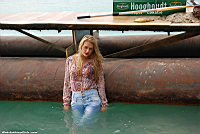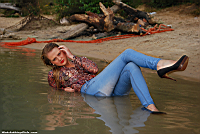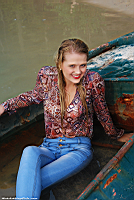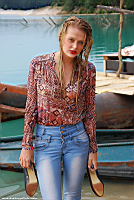 Movie of cute Linda taking a shower wearing black leggings and a long wool pullover

Sidney in flared jeans and white shirt gets soaked and poses to show off!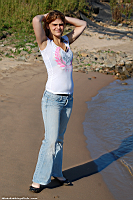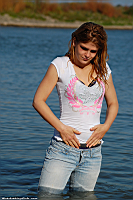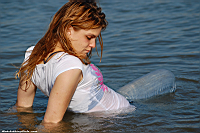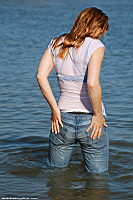 Patricia in jeans and pullover gets soaking wet and enjoys it very much!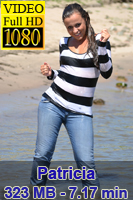 Melanie on Uggs (or similar), tight jeans and a jacket over an animal print shirt has fun getting wet :-)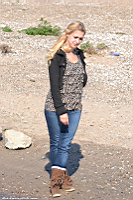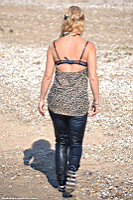 Movie of Martyna jumping around her big cousin Karo. Partially filmed from backstage.
She is wearing a jeans with sheer pullover, but at the end they make up a surprise for us!

Great jeans outfit on Linda, with nice leather boots to get wet as well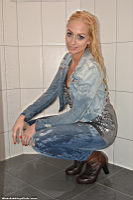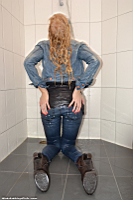 Movie of Laura in a beige pants, very tight, and a black jacket over a shirt.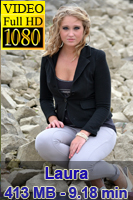 This set with Emma has a lot: A cute redhead on DC skater shoes, a ripped jeans
which is cut and ripped off during the shoot, and a leather jacket that gets fully soaked!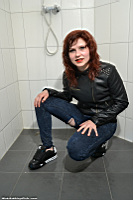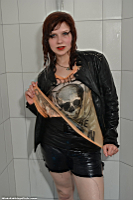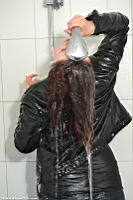 Paula in boots, jeans and denim jacket over a pink shirt enjoys her flooded fields

Movie of Krista in very tight jeans and a red shirt, she gets her long black hair soaking wet!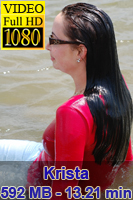 New girl Nicky on high heeled pumps, black pants with special texture and a sheer white blouse over a black bra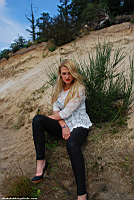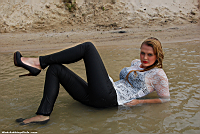 Movie of Melanie in jeans, black top under a blouse and a jacket which she takes off.

Sandra takes a shower in tight jeans and a blue shirt that turns almost black when wet!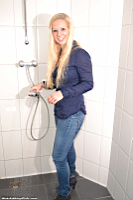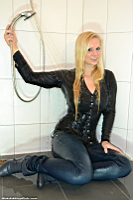 Patricia in a green dress which can be worn several ways. She plays with the flares and soaks well!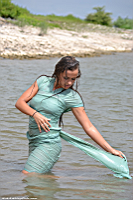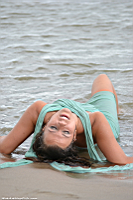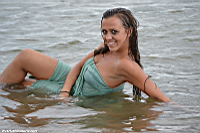 Martyna in a tight denim and a white shirt that gets c-thru when wet!
She wasn't to fond of her bra shining through, so halfway the set she changed in to something more suiting.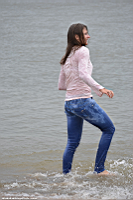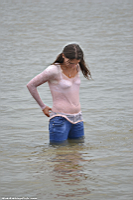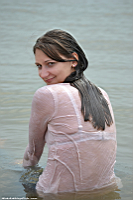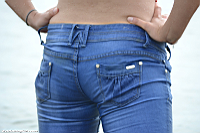 Ravishing Linda takes a fully clothed shower, wearing dark pants and a black top under a denim shirt!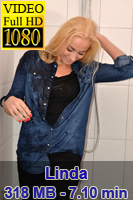 It was a cold day when Paula went into the flooded fields, but she had fun nevertheless!
She is wearing Indian Rose pants with flares and a black vest over a white blouse.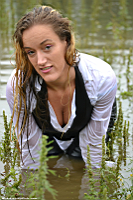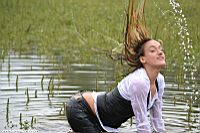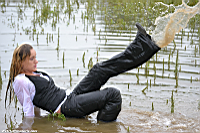 Laura changes her shoes and runs into the water again in a black pants and jacket over a shirt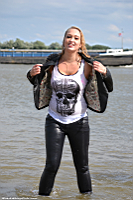 Karianne in a catsuit and leather boots loves to show off her long wet hair, very nice set!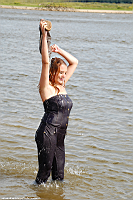 Movie of new girl Melanie, taking her first clothed walk water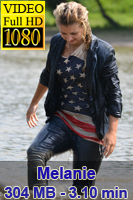 Patricia on bare feet in a tight cotton pants and short jacket over a regular T-shirt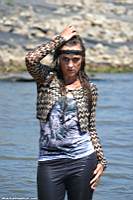 Mascha in tight fit jeans and a purple pullover that turns very darn when wet.

Carlein in tight jeans with baggy cross with undie-peek and a leather look jacket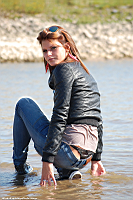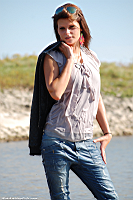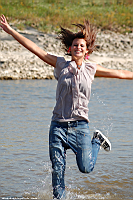 Movie of Krista in sheer red top and black pants. She wades around on heels.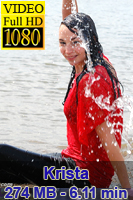 New girl Martyna in a very tight blue dress looks great when soaked!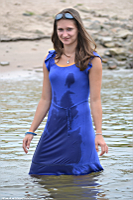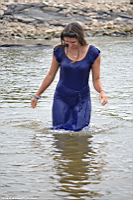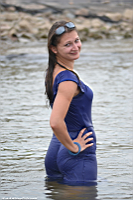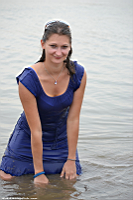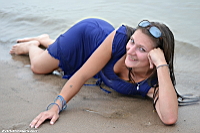 Patricia in white boots, a tight jeans which barely can hold her round butt and a blouse with white bra.
She is a natural in the water and wetlook becomes her very much.

Vivid girl Laura in gray pants with great change of color and a shirt over a black longsleeve.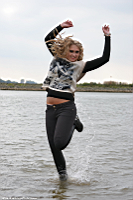 Cute girl with braces and Daisy Duke shirt in jeans is filmed by her boyfriend while she rolls around in the water, getting her clothes wet.
You can see her flirty glances at him.

New girl Mascha in very tight, light denim and a striped shirt with cotton shoes.
She takes off the shoes, no socks just bare feet with red nails

Donna in black pantyhose and heels takes a clothed shower and has some interesting poses.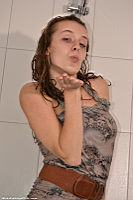 Movie of Emma in long jeans, on DC Sneakers (these are for sale now at wetlookstore ) and a black leather jacket.
She has a hole in her jeans, so she decides to rip them off completely! Hot!

Sidney in black suede boots, a denim skirt over white leggings and a white vest over a white shirt.
Near the end she takes off the jeans skirt and boots, to have an all white outfit :-)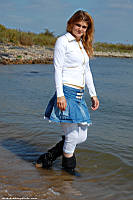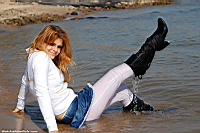 Movie of Patricia in an expensive dress with flaps that can fold in several ways.
She slowly gets it wet and then rearranges it, making it 2 dresses.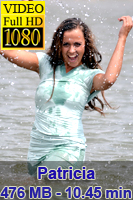 Pleuni in tight denim jeans, Converse All stars and a black leather biker jacket.
She takes her glasses off halfway and plays, she is very happy getting wet on this hot day!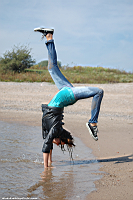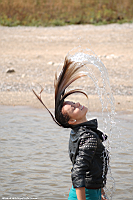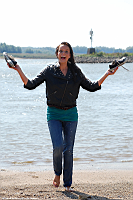 Lovely Sandra in black pants and white blouse takes a shower, washing her long blond hair!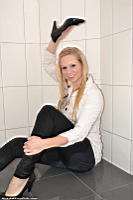 Carlein in a nice jeans video with very tight jeans and a denim jacket over a white shirt.
She enjoys the rolling waves and gets her clothes wet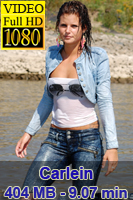 Sarana on heels, a pantyhose and a dress shirt poses with much enthusiasm outdoors, getting wet in the process.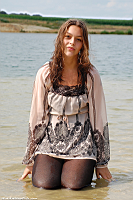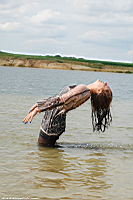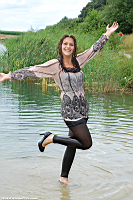 Chantal takes a shower on heels and in a jeans skirt with sheer top.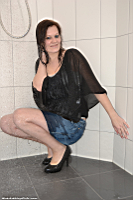 Movie of very lively girl Angela in yellow pants and orange shirt and funky sneakers.
This cute girl with braces jumps and plays, enjoying nature and her wetness to the max!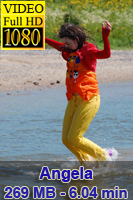 Sidney enjoys her wetlook in an Indian Rose jeans and a jeans jacket over a blue top.
She also wears short black boots which she takes off at the end.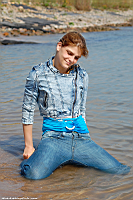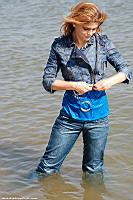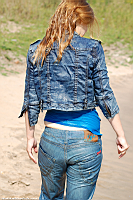 Pretty girl in tight Tommy Hilfigger jeans and a pink shirt under a pink sacco (jacket) poses and plays in the waves, getting all soaked!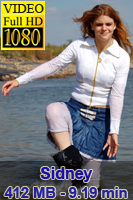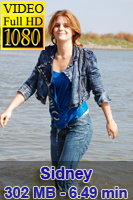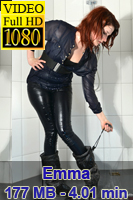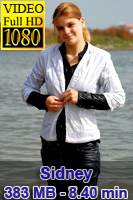 Movie and pictures of Ingrid in an all white outfit, getting completely soaked and revealing some hidden secrets!
It was a dark and stormy day, but she kept on going in, she loved the c-tru of her white clothes :-)

Good movie of blond Kelly is wearing white shoes, white pants, white pullover, white string and white bra
when she walks into the water and gets herself completely soaked! Great outfit!

Movie of Femke in great denim jeans by G-Star, the 3301 Raw, and a denim jacket poses on the beach and in a river.
She is getting completely soaked in the process. Great shape!

Video of blond babe Paula in a very tight jeans and a white blouse.
When it gets soaked it shows the white shirt underneath, so she takes off the blouse, now showing a white bra underneath as well.



Kelly is business suit gets wet in a river, she plays with her jacket and uses her shoe for a bucket to pore water on her blond hair.

Movie of new girl Carlein! She is wearing a shiny downjacket and boyfriend jeans with low crotch.
She gets fully soaked in the lake, posing for the first time wet!

Movie of cute girl Ingrid in jeans pants and jeans jacket uses her boot to pore water on herself :-)

Movie and pictures of Cleo in gray cotton pants, a blue top under a gray vest and black pumps.
First she gets her pants wet in the shower, then she slowly gets into the pool and gets fully soaked, lovely girl in nice set!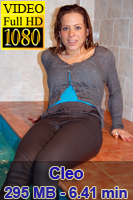 Movie of Femke on heels, in pantyhose under a skirt and a nice satin blouse!