HOME | UPDATES | JOIN | MEMBERS | LINKS
Welcome at WetClothingGirls!
The source for real wetlook since 2003! We update every week with a new set pictures and/or video.
You will find great sets of girls in fully clothed wetlook. They are wearing formal clothes, casual outfits, wet jeans, etc.
We have single girls in swimmingpool, shower or lake, but also groups of girls and friends or sisters posing together.
This makes WetClothingGirls a unique site with something for everybody! If you like wet clothes to emphasize the beauty of a girl, you will love this site! We hope you enjoy your stay, we will post an update nearly every week and if you have requests you can let us know! Enjoy the beauty of water!
---
This weeks update:
Marta on bare feet in a real leather skirt and a jacket which she takes off halfway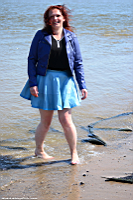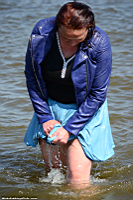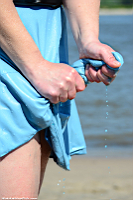 (also available as pay-per-download at www.wetlookstore.com)

Cute Iris in a black outfit, she gets fully soaked and when she finds a ladder in her panty she rips it to shreds

Movie of Indian Sharah in tight jeans. She wears her glasses in the shower and puts
a lot of shampoo in her thick black hair to rinse it. She takes off her glasses halfway.


(also pay-per-download at www.wetlookstore.com)
Arabian Zarina in white legging and a sheer white shirt over a little white skirt!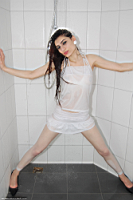 ---